Books by Ann Haralambie
An important part of my law practice is a balance between practical, day-to-day representation of clients and legal scholarship and teaching. The client representation grounds my writing and lecturing in real world, practical experience. My writing and research keeps my knowledge cutting edge and my representation grounded in law and policy. My three volume West book, the third edition published in November 2009, is supplemented annually. My three major law books are written primarily for a legal and multi-disciplinary professional audience. However, litigants may find useful information in them as well. They are available in most law school and public law libraries. They are usually not available in general public libraries.
Law review articles and other legal writing in periodicals and book chapters are listed in my résumé. (pdf file, 101KB)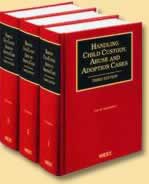 West
|
Amazon.com
"This one-stop resource combines coverage of the law with proven trial strategies and hands-on practice tools in child custody, abuse, and adoption cases. Author Ann M. Haralambie, a certified family law specialist, discusses a full range of crucial topics, such as establishing parentage, proving abuse, terminating parental rights, drafting mediation agreements, and awarding joint custody."
Features:
Contains expanded and reorganized sections on international child custody issues
Contains updated sections on assisted reproductive technology
Includes new chapter on appeals
Includes new sections on memory and suggestibility
Provides expanded coverage of the effect of military deployments
Includes expanded discussion of legal issues concerning children of same-sex parents after the United States Supreme Court case Obergefell v. Hodges
Contents:
Volume 1

Chapter

Historical Background
Jurisdiction
Rights of Unmarried Parents
Custody incident to dissolution of marriage, legal separation, or annulment
Visitation
Alternative dispute resolution
Postdecree modification of custody
Special issues

The gay, lesbian, bisexual or transgendered parent
The cohabiting parent
The physically disabled parent
The mentally disabled parent
The mentally ill parent

Volume 2

Chapter

Assisted Conception and Surrogacy
Third-party custody and visitation
Guardianship
Dependency and Neglect Actions
Termination of Parental Rights
Adoption

Volume 3

Chapter

Indian Child Welfare Act (ICWA)
Proving Sexual Abuse
Proving Physical Abuse
Proving Neglect, abandonment, and emotional abuse
Interference with custody and visitation
Child abuse and neglect torts
Trial techniques: basic strategies
Trial techniques: use of experts and treatises
Appeals and writs
Children's Development, memory, and testimony

Tables
Index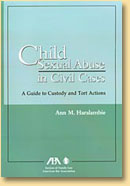 "According to recent statistics, the number of both reported and substantiated child sexual abuse cases continues to increase. As a result, it is highly probable that most family law practitioners and judges will be involved in a case where an allegation is raised regarding sexual contact or activity between the child and a member of the child's family or household.
"Child Sexual Abuse in Civil Cases cuts through the clutter of assumptions, myths, and preconceived ideas to provide a balanced, informative, and ultimately strategic guide to handling cases of abuse in non-stranger situations and the legal interventions available to the practitioner. This information, presented in the author's own inimitable and accessible way, focuses on how to achieve objectives that meet the needs and best interests of the child.
"Haralambie, one of the country's leading experts on the legal remedies in abuse cases, begins the book with a comprehensive chapter to help practitioners understand and define the subject: what constitutes child sexual abuse; the non-stereotypical facts about who commits abuse; and the devastating impact of abuse in family and protective situations. Perceptive analysis of why these claims may first surface in domestic litigation is especially valuable for the practitioner in establishing the validity of a claim in the courtroom.
"Child Sexual Abuse in Civil Cases provides the knowledge and strategy necessary to successfully manage these legal cases, covering topics such as:
Why the child's out-of-court statements about the abuse are often the most crucial evidence in a case, and under what circumstances they can be admitted in court
How the issue of suggestibility is used to attack child-witness testimony, and what research can be used to counter such claims
Why true allegations of abuse first come to light during domestic litigation, and how to counter possible judicial skepticism of these claims
The value – as well as the limitations – of medical examinations, and how to weigh the realistic possibility of obtaining useful information against the best interests of the child"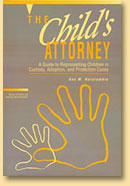 ABA Web Store
|
Amazon.com
"Written by one of the foremost experts on child custody and abuse, this book is a valuable guide to analyzing and advocating the rights of children in civil cases. Beginning with a discussion of the different types of representation for children, the book outlines the ethical and malpractice issues involved in representing children and advises you on determining the difference between the child's best interests and the child's expressed wishes. In addition to sample forms, the book includes a table of over 250 cases and over 400 statutes from all 50 states. Appendices include selected state statutes and guidelines regarding the duties of the child's attorney and the guardian ad litem, including guidelines for use in criminal court."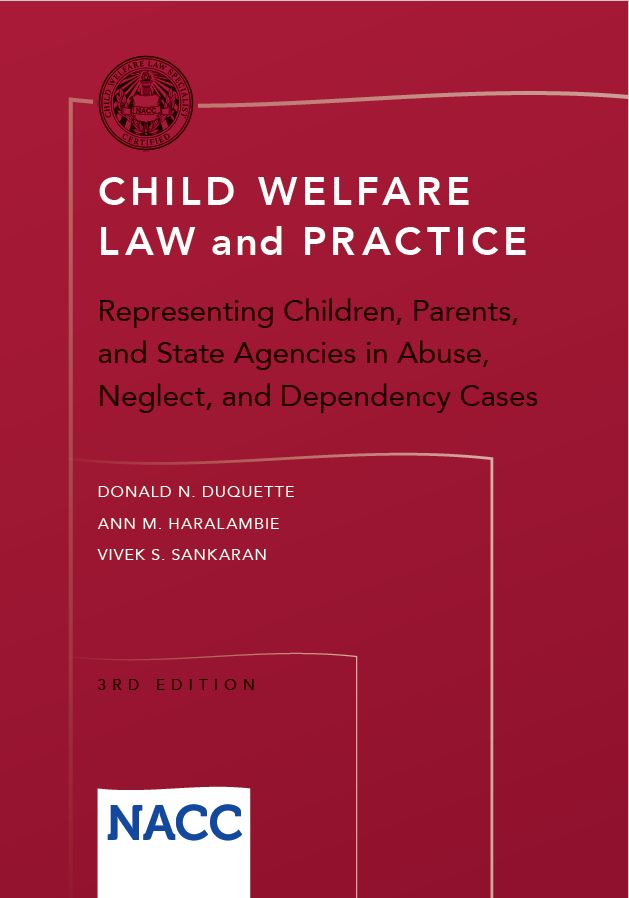 "Top specialists in our field of child welfare have, in one volume, produced an exhaustive compendium of information to help achieve not merely competence, but exemplary practice skills. Because of the rapid changes in and increasing complexity of dependency cases, this book should find its way onto every child welfare lawyer's bookshelf."
— Howard Davidson, Director, ABA Center on Children and the Law, Washington, D.C.